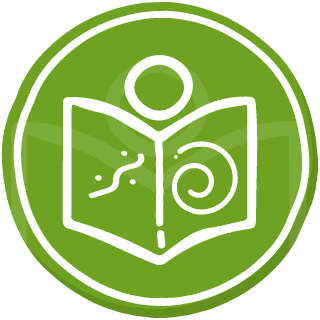 Falling Short: From the 1.7 Billion Pledge to Actions: An African Indigenous Agenda to Implement Indigenous-led Climate Solutions and Indigenous Financing
Indigenous leaders, donors, and NGOs discussed Indigenous-led finance at COP27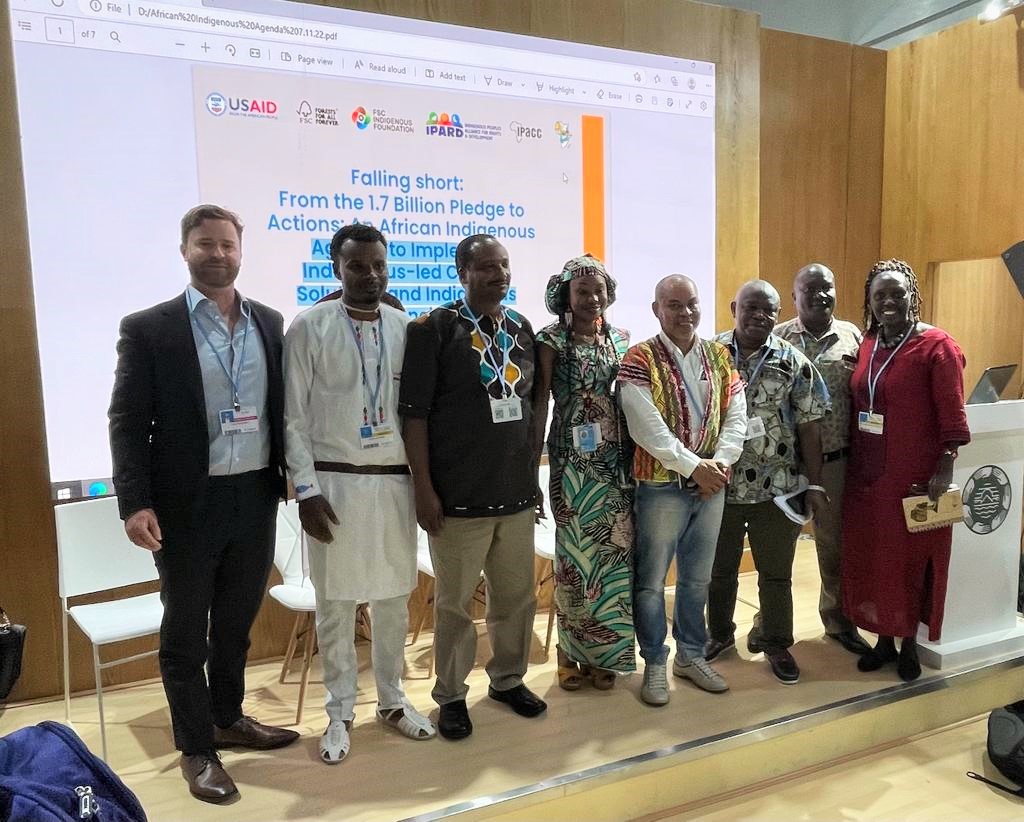 Indigenous Peoples and Local Communities (IPLC) are among the first to face the direct consequences of climate crisis, due to their dependence upon, and close relationship, with the environment and its resources. Accordingly, any slight change in weather patterns resulting in climate change exacerbates the difficulties already faced by Indigenous communities including political and economic marginalization, loss of land and resources, human rights violations, discrimination, and unemployment.
The Indigenous Peoples of Africa Co-ordinating Committee (IPACC), the Network of Indigenous and Local Communities for the Sustainable Management of Forest Ecosystems in Central Africa (REPALEAC), and the FSC Indigenous Foundation organized the panel discussion: Falling Short: From the 1.7 Billion Pledge to Actions: An African Indigenous Agenda to Implement Indigenous-led Climate Solutions and Indigenous Financing. The high-level discussion took place on Tuesday, November 8 in the Indigenous Pavilion at COP27.
The event was a space for Indigenous leaders, donors, and NGOs to exchange on existing Indigenous-led finance models and identify ways of integration and collaboration to achieve common goals.
Panelists discussed how to develop the mechanisms of governance, design, and management of Indigenous financing linked to the USD 1.7 billion with five action-pillars part of a USD 100 million regional Indigenous-led climate agenda for Africa designed to address key existing constraints in the region.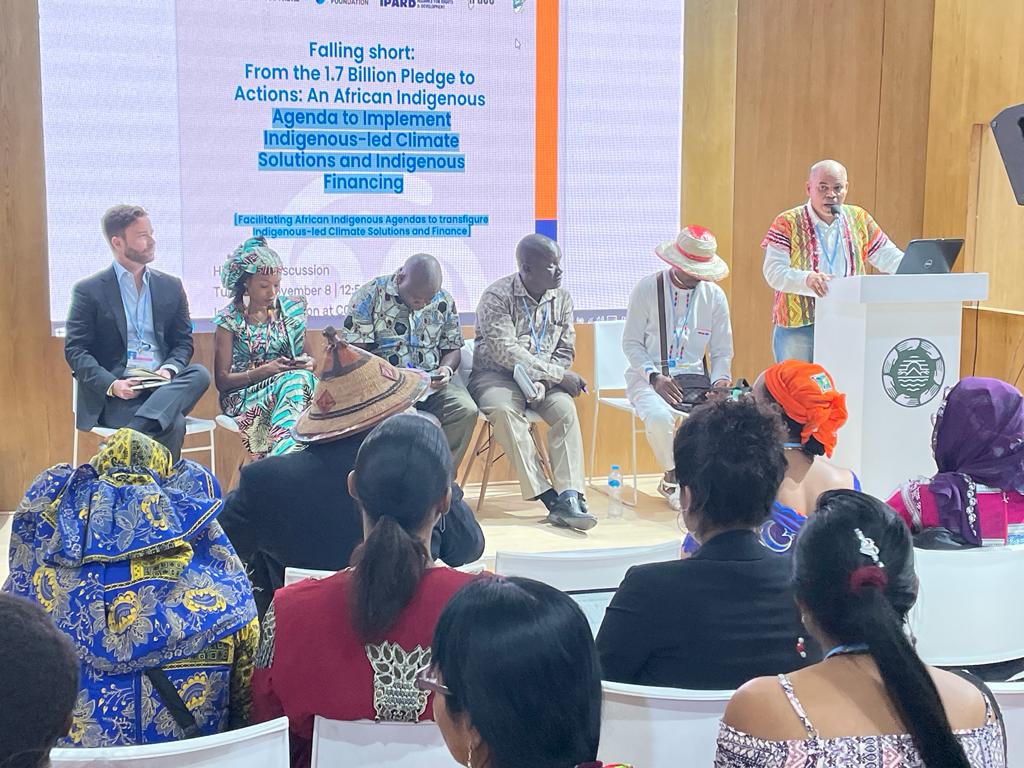 Francisco Souza, Managing Director of the FSC Indigenous Foundation and member of the Apurinã Indigenous Peoples of the Brazilian Amazon, opened the session with a message about the solutions to the climate crisis that exist within Indigenous communities. He stated, "Indigenous Peoples have been here long before we started talking about finance and sustainability, which we have implemented for many years."
Hindou Oumarou Ibrahim, from the Association of Peul Women and Autochthonous Peoples of Chad (AFPAT) emphasized the importance of having Indigenous Peoples as active partners in climate solutions. She said:
"We are not just recipients of money because we are doing our part. We are giving our resources, our knowledge; we are partners."
Kanyinke Sena, Director of the Indigenous Peoples of Africa Co-ordinating Committee (IPACC), stated, "We ask for the pledge to put in place loss and damage financing as soon as possible."
Basiru Isa, Secretary General of REPALEAC, added, "From the small amount of money given to Indigenous Peoples, the smallest part is given to Africa. We want to manage at least 100 million to implement a 3-4 year agenda in Africa."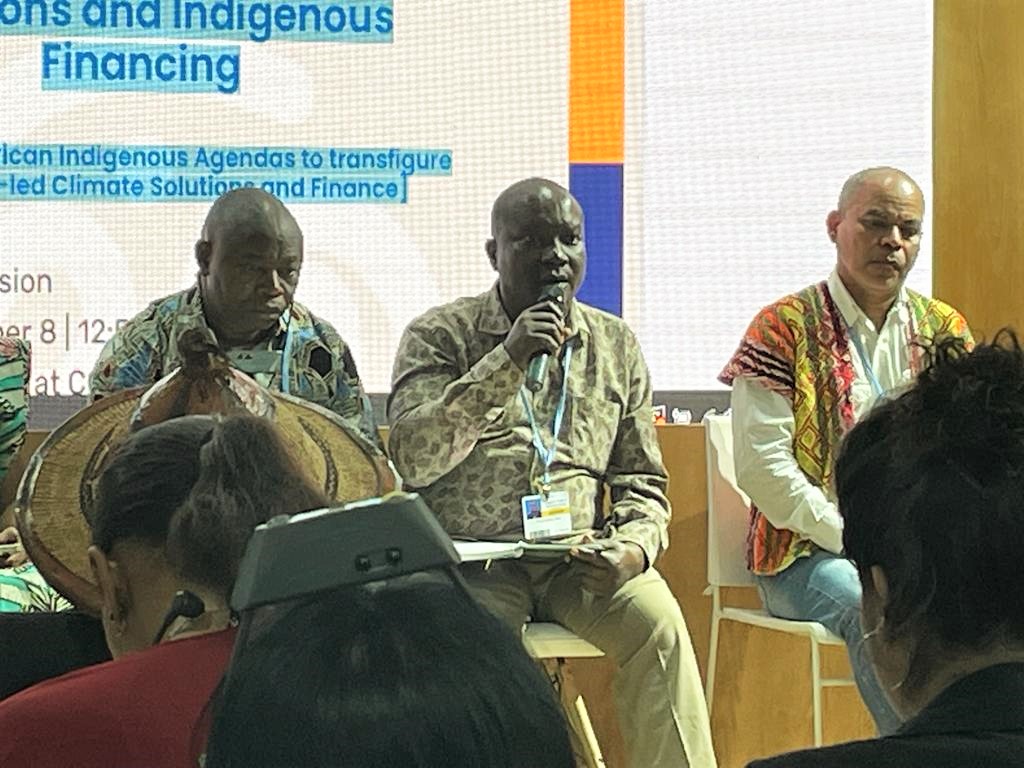 Panelists also emphasized the importance of partnerships. Joseph Itongwa, Coordinator of REPALEAC, said, "It is important to work with the FSC-IF, it is an organization led by an Indigenous person we trust."
Casey Box, Director of Global Strategy at the Christensen Fund said, "Indigenous Peoples organizations should be able to decide which intermediaries they want to work with. The FSC-IF could be an excellent option, along with others."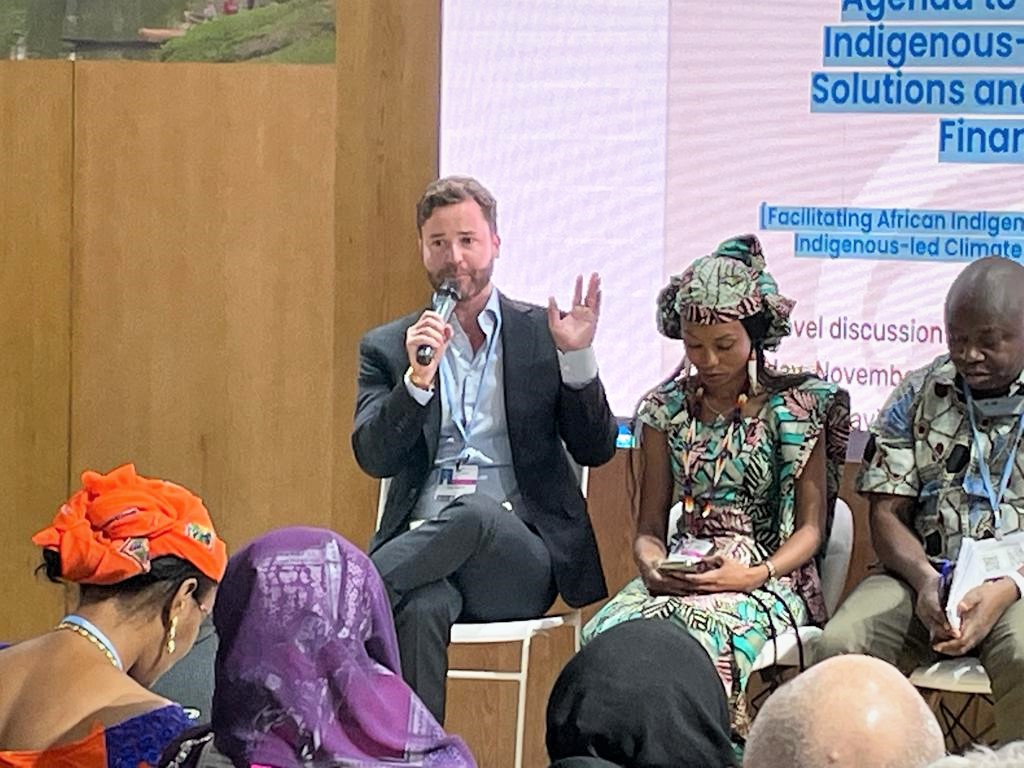 This productive discussion included: Dr. Francisco Souza from the FSC Indigenous Foundation, Basiru Isa from REPALEAC, Hindou Oumarou from AFPAT, Dr. Kanyinke Sena from IPACC, Joseph Itongwa from REPALEAC, Daniel Kobei from the Ogiek Peoples Development Program, Casey Box from the Christensen Fund and Salina Sanou from FSC Indigenous Foundation.
Panelists focused on the importance of strengthening Indigenous governance and coordination (at regional, national, sub-national, and local levels); implementing funding management models to create the enabling conditions to increase the capacity of IPLC organizations including organizational structure, operational management, implementation development, procurement and reporting; as well as the importance of multi-sectoral engagement to ensure collaboration and partnership with national governments, donors, investors, and aid agencies.
All speakers concluded that any solution to the climate crisis must include Indigenous Peoples as active partners.