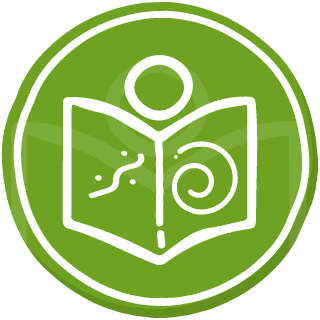 Indigenous-led tourism benefits communities, economies, and Mother Earth
Native American Tribes and Indigenous Peoples of Latin America discuss successful Indigenous-led tourism models
According to the World Tourism Organization, approximately 370 million Indigenous Peoples in the world are linked to tourism activities. If managed in a responsible and sustainable way, Indigenous-led tourism can increase employment, reduce poverty, empower local communities, spur cultural revival, and allow for a sustained relationship between land, nature and Indigenous Peoples.
The impacts of the COVID-19 pandemic have had disastrous effects on the tourism industry, impacting all those who depended on it as a source of livelihood. Recovery methods must be inclusive of Indigenous Peoples' vision for their communities and development.
Opportunities for Indigenous Peoples: Indigenous-Led Tourism
With this in mind, the FSC Indigenous Foundation (FSC-IF) and the White House Council on Native American Affairs (WHCNAA) Committee on International Indigenous Issues organized a webinar on July 14, 2022 to highlight the conditions and approaches that have made Indigenous tourism initiatives economic, social, cultural, or environmental successes. The webinar was part of a series that seeks to foster information sharing and connections between Native American Tribes and Tribal organizations in the United States and Indigenous Peoples organizations in Latin America to support Indigenous-led economic development.
After a welcome by Salina Sanou, IPARD Program Deputy Director and Africa Regional Country Manager, Kathryn Isom-Clause, Deputy Assistant Secretary for Indian Affairs of the U.S. Department of the Interior, provided an introduction to the webinar, highlighting the connection between Indigenous resource management practices and climate and market-based solutions.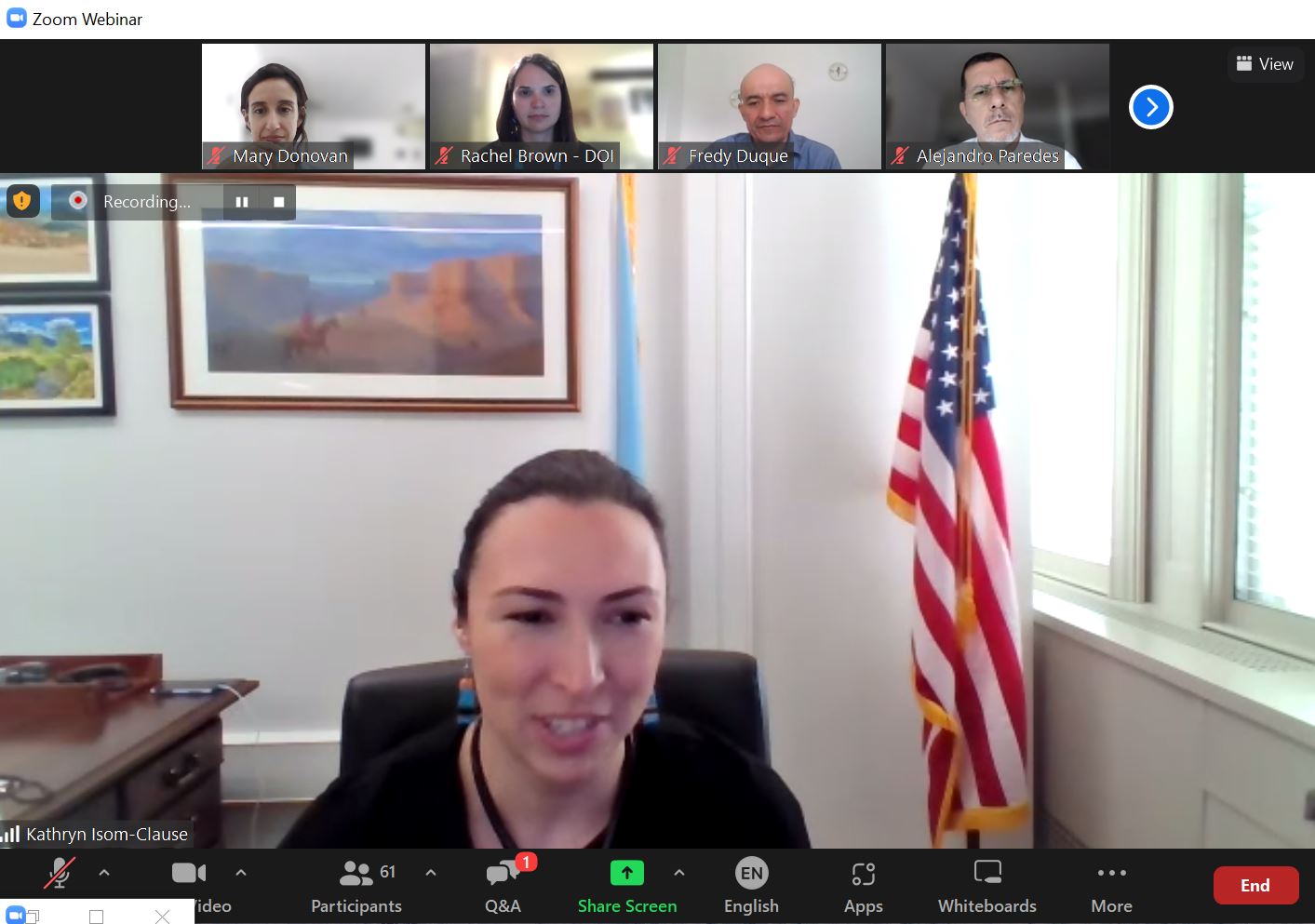 Denise Litz, member of the Tuscarora Nation and Chief of the Division of Economic Development of the Bureau of Indian Affairs provided a context as the world is opening from COVID-19 lockdowns and tourists are looking to explore new places and make connections. Indigenous tourism faces challenges that have now been exacerbated by the pandemic. She stressed the importance of tourism for communities and the efforts of the U.S. Department of the Interior to support tourism recovery.
"Indigenous tourism offers communities an opportunity to generate income, alleviate poverty, increase access to healthcare and education, and conserve cultural and natural resources," said Denise.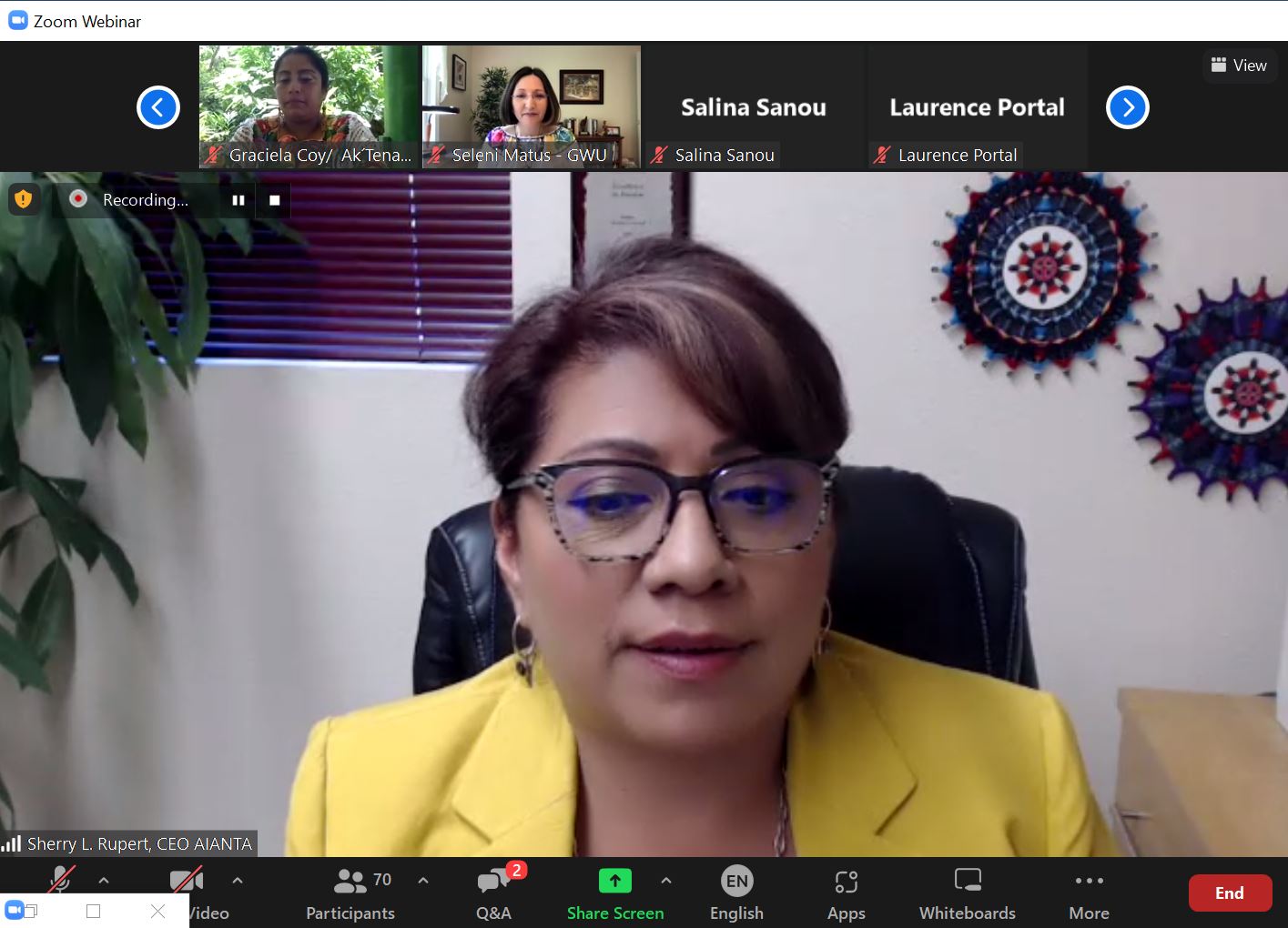 The first panelist, Sherry L. Rupert, CEO of the American Indian and Alaska Native Tourism Association (AIANTA), shared key research and data on the economic impact of cultural tourism, including the fact that Native American tourism in the United States is a 14 billion USD industry.
However, Tribes still face challenges to access funding, grow markets and benefit from the national tourism system. She shared some examples of successful Native tourism enterprises including Redwood Yurok Canoe Tours, DX Ranch South Dakota, and the Steward Indian School Cultural Center and Museum.
She welcomed Reid Milanovich, Chairman of the Agua Caliente Band of Cahuilla Indians, who noted the critical importance of cultural tourism to Tribal economies. He thanked AINTA for their support in maximizing tourism opportunities and "lifting Tribes to help them share their stories."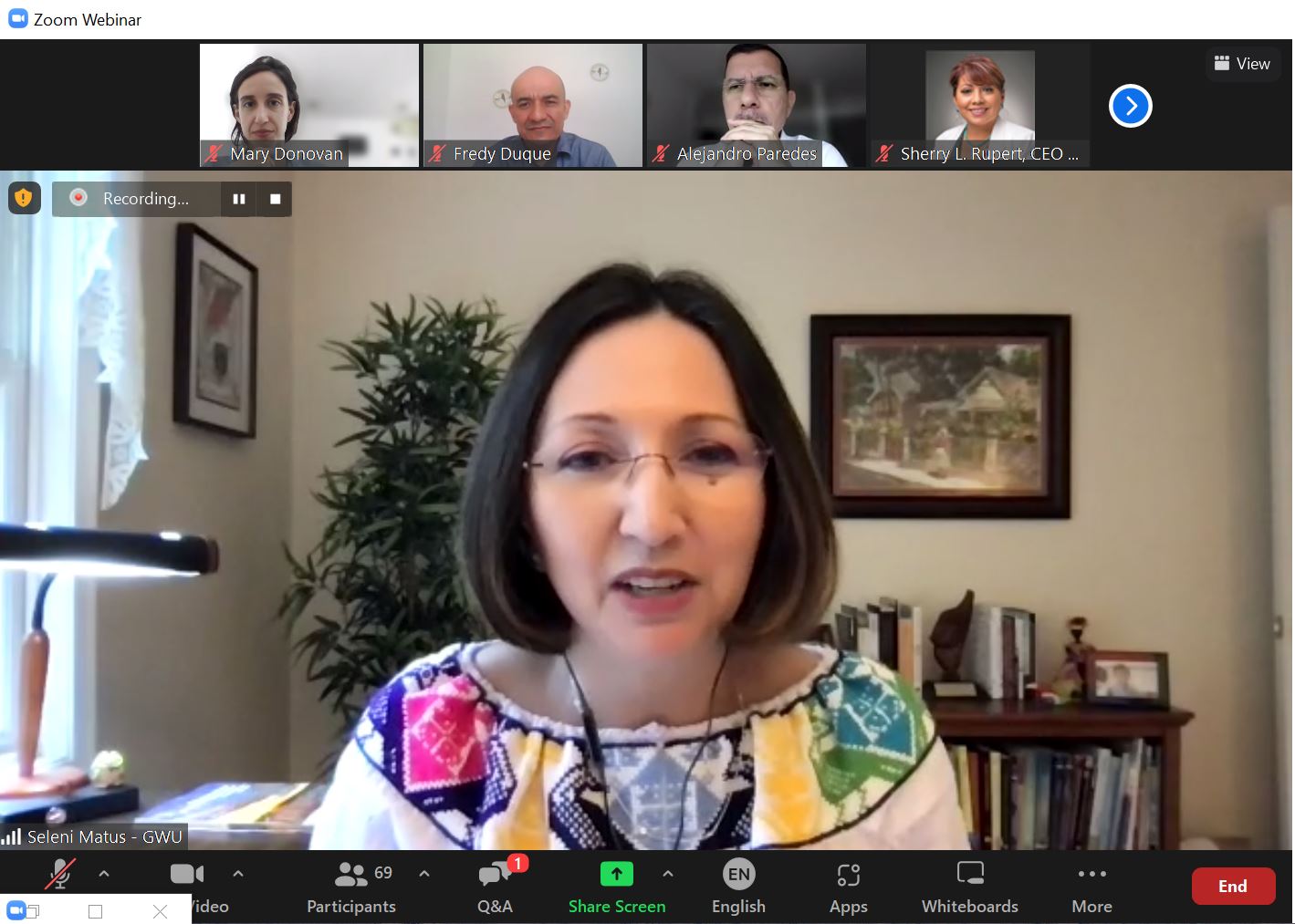 Seleni Matus, Executive Director of the International Institute of Tourism at the George Washington University spoke about fostering regional partnerships for Indigenous tourism. First, she shared a Toolkit and Model for Regional Development and Management of Native Tourism, developed by Tribal Nations and the North Dakota and South Dakota Tourism Alliances, to inspire new ways of collaboration among Tribal Nations and promote vibrant economies at the state level. The Tribal-led process includes stakeholder consultation, shared vision, capacity development, and forming market linkages.
Seleni gave an overview of the Indigenous Tourism Collaborative of the Americas, an initiative to inspire connections and exchange knowledge so Indigenous Peoples can determine their sustainable futures. More than 75 organizations are involved in the network, which was born from discussions during the Indigenous Tourism Forum of the Americas. The Collaborative offers an online repository and ongoing virtual dialogues to develop a shared action agenda defined by Indigenous leaders.
Graciela Coy, Maya Q'eqchi' and President of Ak' Tenamit, presented the sustainable tourism network Caribe Maya. The network is composed of community groups and women's organizations along the Mayan Caribbean coast in Guatemala and Honduras, an area rich in cultural wealth and marine and terrestrial biodiversity. She explained that the planning and organization is managed by the Indigenous, Garifuna, and community groups who make up the tourism network, and that benefits are distributed among the communities to support education and health.
Caribe Maya connects with national and foreign tourists by leveraging technology and social media and working together to promote the products offered by the different groups. She stressed the importance of strategic partnerships with the private sector and the Guatemala Institute of Tourism.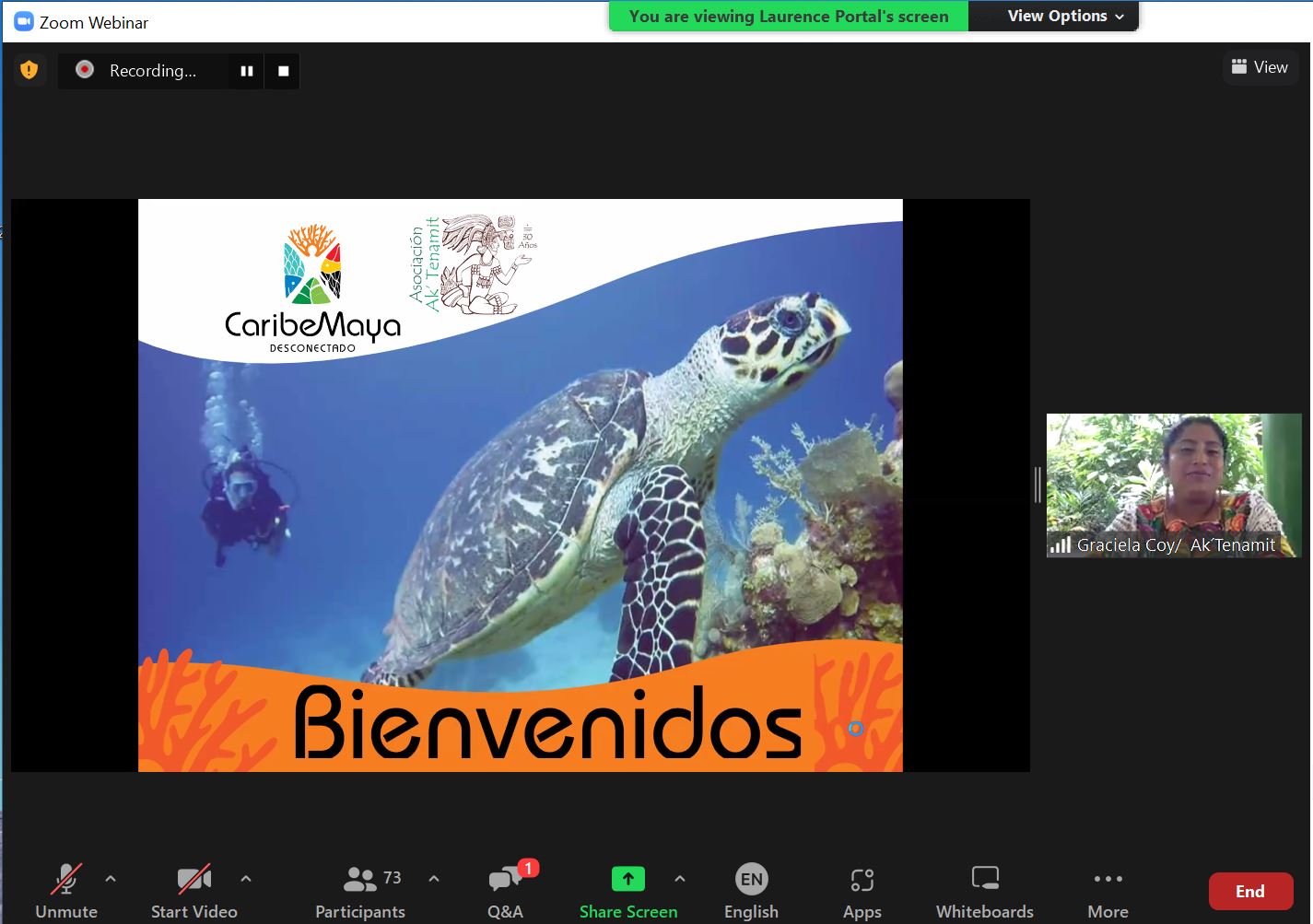 Coming out of the pandemic, tourism began to increase again in 2021, bringing positive impacts to the communities. 
"We have seen some changes. We have observed the empowerment of communities, women's groups, and associations and see the participation of women who have a significant leadership role in these community tourism activities," Graciela said.
Other positive results include stronger enterprises, biodiversity conservation especially of the mangroves, and increased participation in decision-making spaces, for example the Izabal Department Tourism Desk.
Graciela shared lessons learned, including the need to be resilient and prepared in face of tropical storms and climate change, the importance of strategic partnerships to strengthen community tourism, increasing women's participation and equal distribution of benefits, and the need to develop contingency plans against any negative impacts of tourism that could arise.
The question and answer section concluded with agreement on the need to engage a wide range of sectors including government, private sector, and NGOs to support Indigenous-led tourism. All speakers highlighted the importance of collaboration, working and learning together, and building partnerships.
Alejandro Paredes, IPARD Program Director, gave closing remarks thanking all panelists and attendees, emphasizing the importance of continuing the discussion and strengthening the connections established in this webinar.
View the webinar recording here.